Things 3: The most beautiful piece of software

I'm a to-do list freak and a project management junkie. Yes, it's a thing.
I've tried them all. Really. I consider myself an early adopter for new software. More surprisingly, I switched in 2019 (2019) to a to-do list that's actually been released in 2017. Quite late for an early adopter, I know.
And now, in 2020, I'm writing about it. Here's why.
Things 3
Things 3, from the Germany-based software startup Cultured Code, is a 2017 Apple Design award-winning app for organizing your life that's both simple and robust.
And if you ask yourself....well, what's all that special of this To-Do app?
There are many reviews about Things 3 out there. Simply check out the following ones: Your Beginner's guide to Things 3. And also, Ali Abdaal, one of my favorite Youtubers on productivity, recently mentioned Things 3 in his video on his favorite Mac Apps in 2020.
It's magical
It's really hard to say why Things 3 feels so special. I think Ali's quote does a really good job of describing it best:
It's one of the most beautifully designed Mac, iOS, and iPadOS apps I've used in my life. It's such an absolute joy.
I think Ali gives a really great overview on the workings of Things 3. Go check out his video:
Things 3 was launched back in 2017, but with regular updates on all systems (Mac, iPad, iOS), the app feels super slick and modern.
Especially keyboard shortcuts give the app some superpowers and make you want to use it even more.
But the price!
Yes, Things 3 costs some real money. With the following pricing structure, it's not among the cheapest to-do list apps.
49,99 USD for the Mac version
19,99 USD for the iPad version
9,99 USD for the iPhone version
Is it worth it? Yes - absolutely. When I switched to Things 3, I immediately got the Mac and iPhone version. A couple of months into my journey, I also got the iPad version.
With Cloud sync, working across those devices is smooth and seamless.
One reason why Things 3 is really worth every penny is that my to-do list is always up-to-date. It sounds easy and kind of stupid, but with the previous apps I used, my to-do lists were ALWAYS outdated.
The reason was that I slowly stopped using the apps. You could call it first world problems, but having an app that is such a joy to use does the trick between using and not using it.
More than just a to-do app
Things 3 is more than just a to-do app. I - for example - use it to save interesting articles to my Things inbox.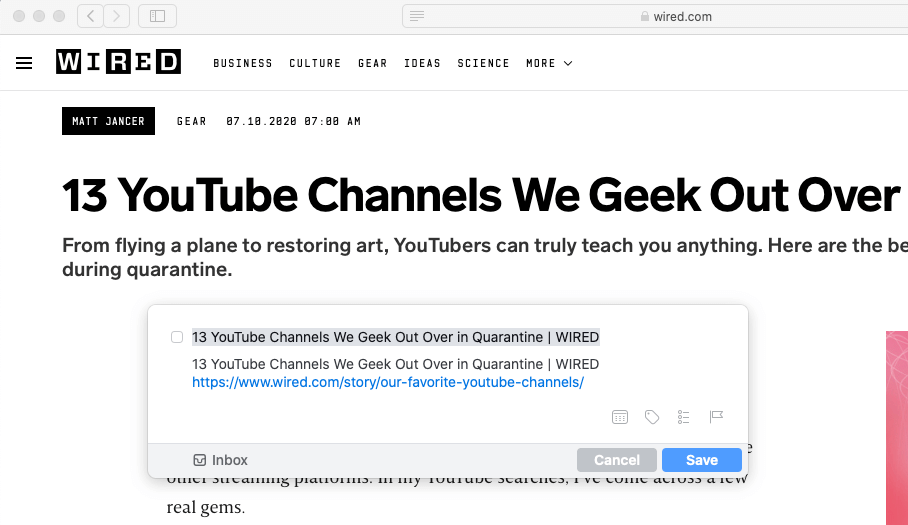 Things I also use things for :)
Finance: Shortlist of stocks I follow
Donations: A collection of all the donations I made last year
Booklist: A collection of all the books I read and audiobooks I listened to
Tools: A list of all the tools I'm subscribed to (both private + business)
Business ideas: A list of possible new business ideas I stumble upon
Interesting people list: A list of people I follow
Insurance list: A list of insurance policies that I currently have
Travel: A list of places I want to visit
Final thoughts
Things 3 is a well designed, beautiful app that's easy to use, while having some really nice pro-features.
Things 3 is so much more than just my personal to-do list.
It's my bookmarking service, my reading list; I keep track of all the books I read and the ones I want to read. It's the first application I use in the morning to plan my day and daily tasks.
It's my kind of LifeOS. Well actually, it really is my LifeOS.