Things to do when in Dublin
In 2013 I hopped on a plane to Dublin and returned about 6 months later. This was the longest period of time in which I lived in another country. Since then, Dublin feels like my second home. It became a special place to me. A happy place.
This is why I'm super happy to share the best 10 things you should do when in Dublin.
Happy in Dublin
Dublin is the capital of Ireland. It is on the east coast of the green Irish island at the mouth of the River Liffey. The Liffey divides the city into a northern and southern part (people are proud southerners and northerners - so better not get into a fight on which part is "better").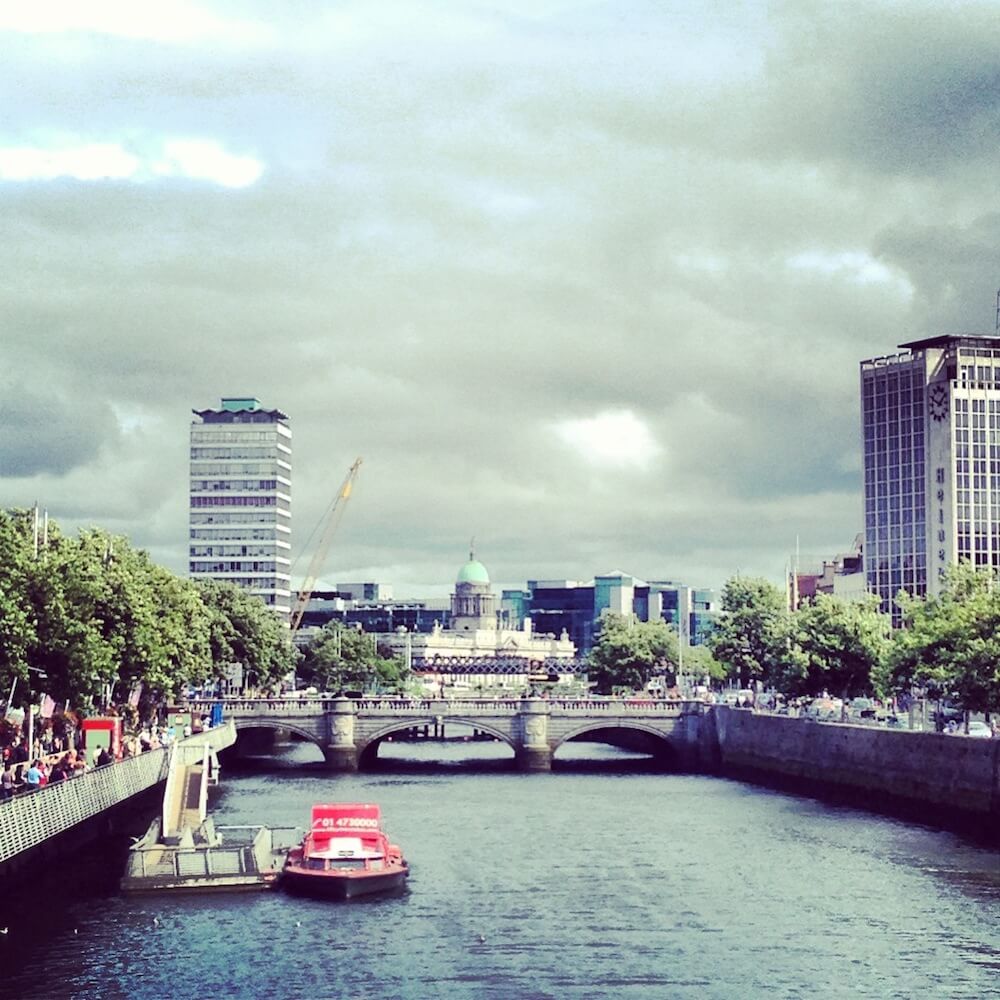 The city of Dublin is called 'Baile Átha Cliath' in Irish.
Yes - Irish is one of the official languages in Ireland, although most people don't speak it any longer. But don't worry about the Irish language, I'm sure you'll have some issues with the Irish dialect of English anyway ;).
As mentioned in the beginning, Dublin is my happy place. However, Dublin and its people are happy too. People in Dublin (and Ireland in general) are one of the most-friendly, and open-minded people I've met.
Now, let's get straight to the point. Here's what to do if you're spending some time (weekends, weeks, months) in Dublin.
(Note that this is not a travel guide. This is just a personal recommendation from my time in Dublin.)
Understanding the pub culture
Don't get me wrong. I'm not recommending you to drink alcohol. However, Guinness in particular (you should read about the Guinness family and what they did for the city) and pubs, in general, are part of Irish culture.
Pubs are more than bars. It's really hard to describe pubs, as they are pretty unique. Even Irish pubs in your cities (= outside Ireland) are different to real pubs in Ireland.
The word "pub" is basically an abbreviation of "public house" and means a place where people can gather.
Don't go to Temple Bar
Temple bar is an area south of the River Liffey. Today, the area is a major center for nightlife, with various bars, restaurants, and night clubs.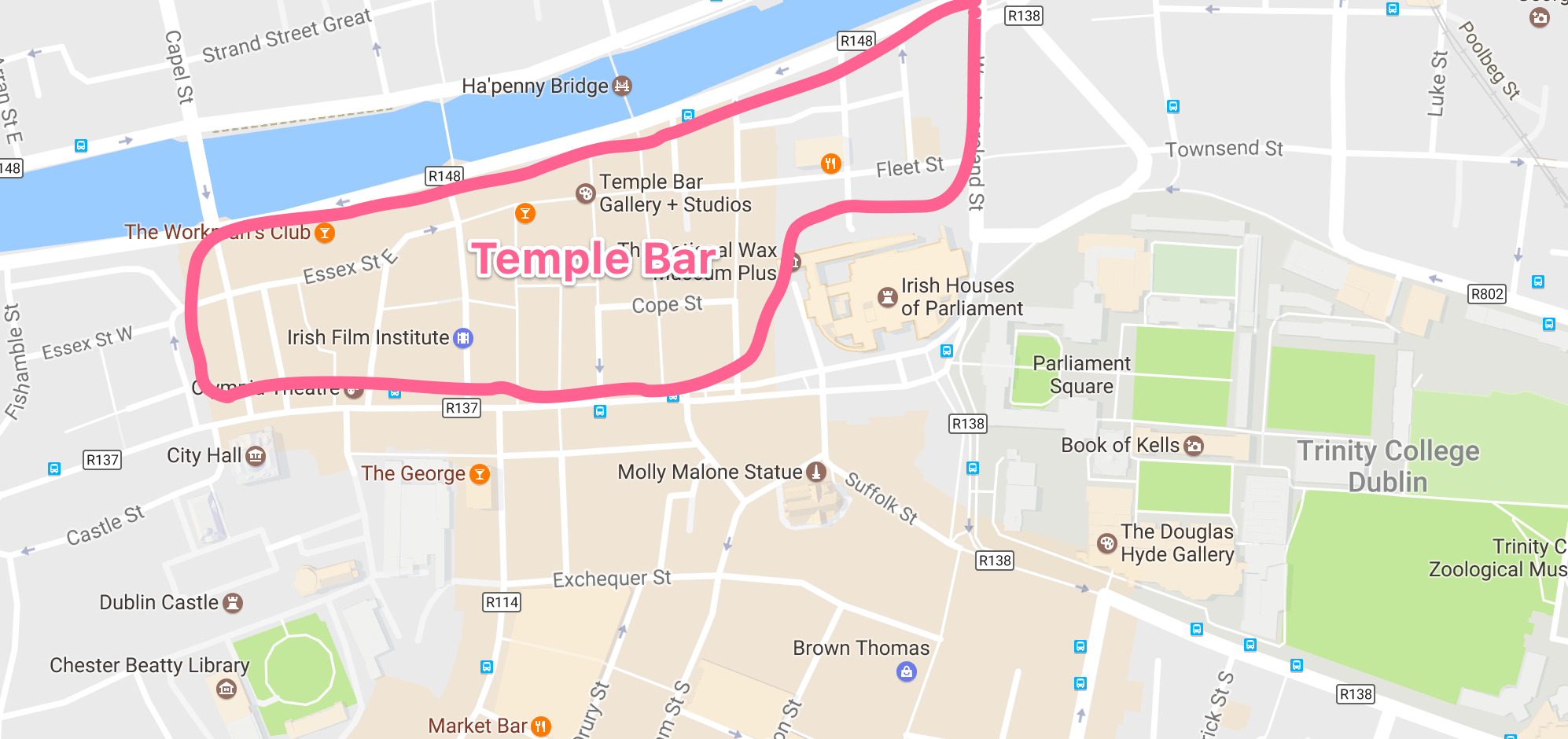 It's definitely a nice place to hang out. But here's the thing: You won't find a lot of Irish people there. Locals rather avoid this area, as it's a real tourist spot.
Have a pint of Guinness at a local pub
So better find a local, quieter pub where you can hang out. Here's my list of pubs you should definitely check out for various reasons:
Peadar Kearney's (64 Dame Street): My favorite place in Dublin (see below)
The Palace Bar (21 Fleet Street): It's a Victorian pub with quite a history. Today the Palace Bar is a favorite place for locals and insiders. The pub is also known for their great selection of Irish Whiskies.
John Fallon's The Capstan Bar: A old-fashioned, original Dublin pub, not too far away from St. Patrick's Cathedral.
Sinnotts Bar: Watch a Irish football or rugby game at Sinnotts. It's usually packed out for big games.
Stroll from O'Connnell Road to St. Stephen's Green
So if you had too much Guinness the day before, you better avoid doing touristy things. Rather wonder around the city, and enjoy life.
By strolling down from O'Connell Street all the way to Grafton Street, you'll get to see quite a few things.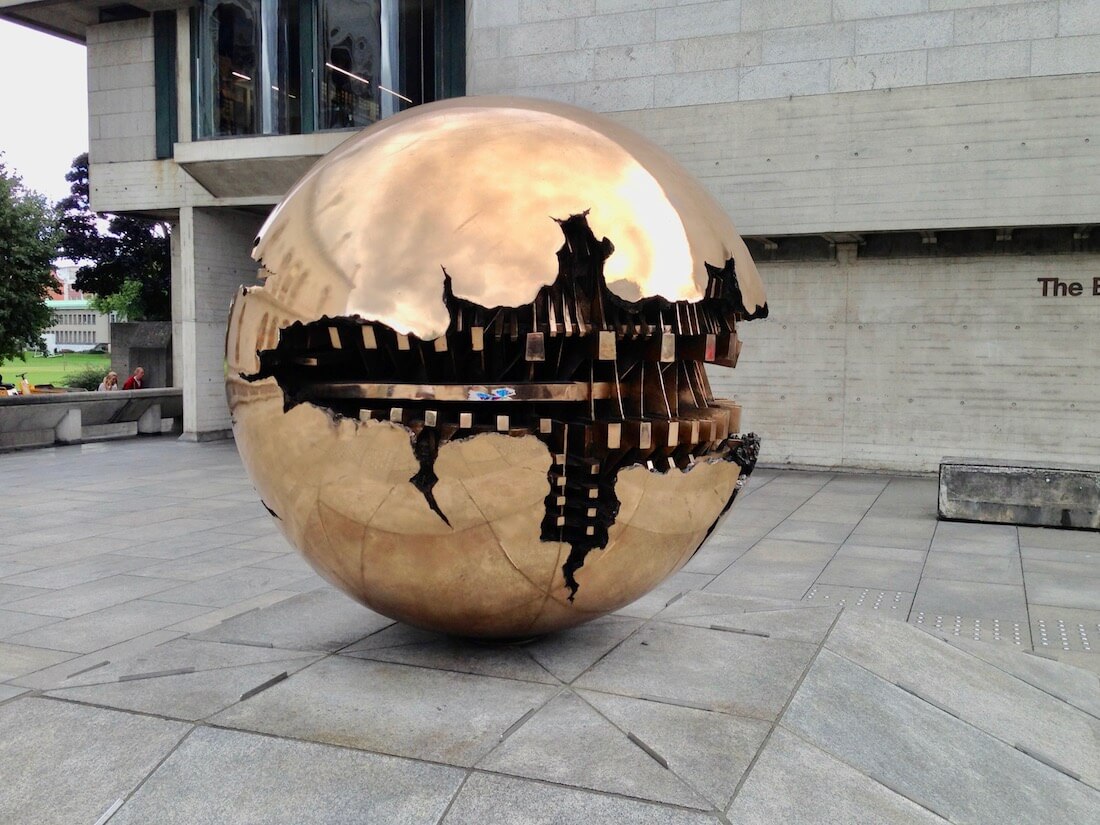 If you start at Parnell Monument and walk all your way down to Grafton Street it's a total distance of 1.45 km (4,754.62 ft).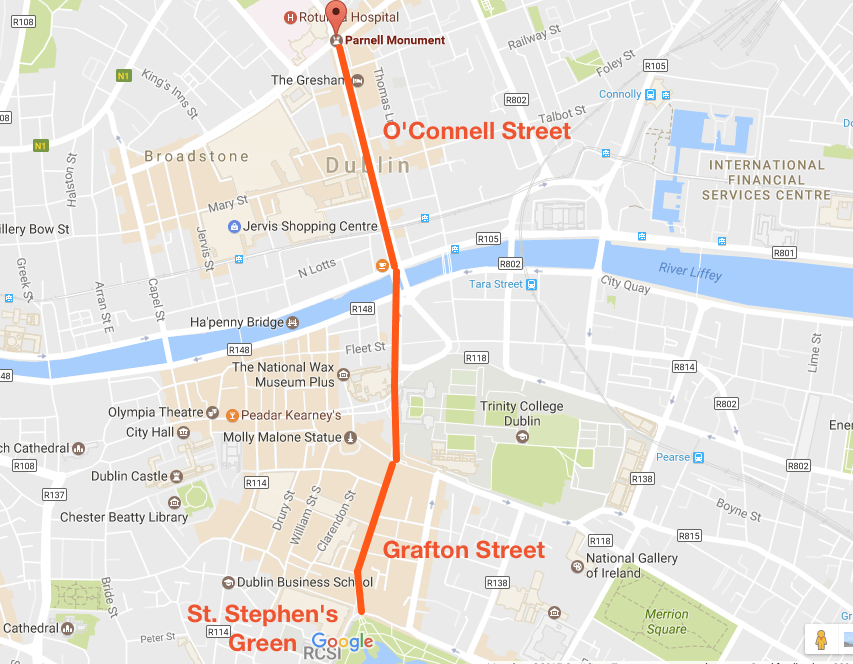 O'Connell Street is a great place to start your walking. The street is has a lot of history, art, shops, and other interesting sights.
After crossing the O'Connell bridge you'll end up in Dublin's city center, with the Temple Bar on the right-hand side, the Trinity College with the Book of Kells on the left side.
If you continue your walk, you'll end up on Grafton street. Grafton street is one of the two main shopping streets in Dublin (the other one is Henry Street, North the Liffey).
If you're a shopping addict, this is your street. If you're like me and rather avoid shopping, you'll find some nice coffee shops, restaurants, and pubs near by ;)
And the best part of Grafton Street? If you walk right until the end of it, you'll find yourself right in front of St. Stephen's Green.
Listen to Brian Brody at Peadar Kearney's
If you ask me about one - and only one - thing what you should do in Dublin, I'll tell you this. Go to Peadar Kearney's and enjoy some live music by Brian Brody. He's a legend.
AS far as I know he's playing Fridays and Saturdays, starting a 10 pm. It's a must-watch. Words can't describe how much of a must-watch he is.
Brian Brody is often regarded as Dublin's top pub performer.
Don't trust me? Search for "Brian Brody" on Youtube and you'll find plenty of videos.
(Mini-docu of Brian Brody)
What else to do in and around Dublin?
Want some further tips for your next Dublin trip. Here some things I can absolutely recommend doing.
Go to Kilmainham Gaol, a former prison, and see the darker side of Ireland.
Hop on the train and travel to Howth, 30 minutes North of Dublin.
Visit Croke Park Stadium and get some insights on Gaelic games.
Visit the Guinness Storehouse and/or the James Distillery
Stroll around Phoenix Park, it's one of the largest parks within an European capital city.
Enjoy some time at Saint Patrick's Cathedral and walk to Christ Church.